Barbican Station pop-up garden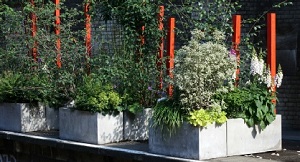 In April 2015 the transformation of the disused platform on Barbican Station into the pop up garden we had been planning for the last 18 months finally happened! Designed by international landscape architects, Gensler, the 100 meter-long scheme of grouped planters and red verticals emulates the movement of trains entering the station, slowing down and then accelerating on departure.
Over 50 volunteers, working over a two week period created a lush and lovely garden. The planting design, by FoCG volunteer Marion Blair, follows the curve of the red verticals with red-barked Himalayan cherry, multi-stemmed silver birches and amelanchier providing height and structure. The platform is quite shady so the plants were selected to thrive in these conditions, with foxgloves, heuchera, ferns, pulmonaria, hostas and euphorbias providing a lush, multi-textured background for seasonal colour that is added to provide year-round interest. The garden includes planters for vegetables that are tended by TfL staff.
Over 50 local residents and staff from local businesses volunteered and made the garden happen by carrying plants, poles and trees down the three flights of stairs to the platform and then planting, watering and maintaining the garden.
Without our wonderful sponsors – local firms Hamptons International, Kingston Smith and Redrow London the garden would not have happened. We would like to thank them and our partners – the City of London Gardens team, Gensler, the Barbican Centre and of course TFL and all the great LUL station staff who were so helpful during the build and planting.
The Pop up has participated in Open Garden Squares Weekend and Open House and at Christmas the garden is decorated fabulous Christmas trees with lights. In 2015 and we organised a week of carols and musicians performing in the station and collecting for charity. Eventually the platform and track will become a siding for Crossrail and the pop-up will have to be relocated. Let us know if you have any suggestions for a new location!