Volunteering – get involved
The current projects are listed here
We organise regular volunteering sessions in Bunhill Fields on Tuesday and Sunday mornings. We are responsible for developing the biodiversity and sustainability of the site. Biodiversity enhancements include installing bumblebee nests, and planting native wildflower bulbs, wildflowers and a native hedge. We have built leaf composting bins and collect all the leaf fall on site to create leaf mould. We have replanted several of the flower beds created by Peter Shepheard in the 1960s, enhancing the habitat for pollinators. We also carry out regular bird, plant and insect surveys.
If you would like to join one of these sessions as a regular volunteer please contact us
We provide gloves, tools and other PPE depending on the tasks. We also provide tools, training, supervision and all the plants and seeds and other materials. Volunteers are covered by our public liability insurance.
Tempo Time Credits
If you volunteer with us you are eligible to join the City of London Time Credits scheme.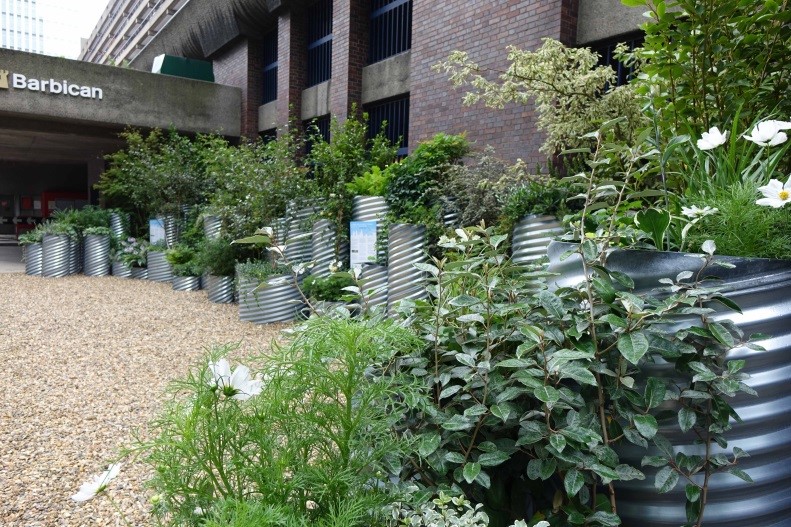 With the help of volunteers we created Barbican Station pop up garden and the Moor Lane pop up pot garden out of 56 steel tubes.

We also contribute to and initiate art and cultural projects in City gardens, such as an evening talk in Postman's Park on the Watts memorial and a video project with artist Melanie Manchot, curated the Wild City exhibition of wild plants found in the City and the Top Ten Trees in the City.
Corporate volunteer days
We have built partnerships with several companies and organisations including Mace, Chubb, Grant Thornton, BDO and Skanska. Corporate volunteers have helped transform the biodiversity and sustainability of Bunhill Fields and other gardens in the City, and we are very grateful for the support from these organisations and the hard work from their staff.  From May 2023 we do not have the resources to expand our corporate relationships. Any organisation that is interested in volunteering in the City of London should contact City Gardens: citygardens@cityoflondon.gov.uk