Birdfeeders return to Smithfield Rotunda
Replacement bird feeders in Smithfield, after a person or persons unknown pinched the originals.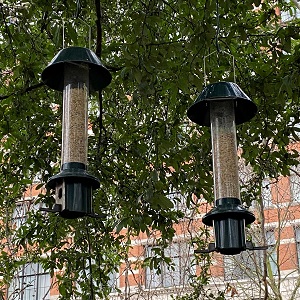 All four were stolen just before Christmas 2019. These new feeders were donated to FOCG by the Rising Sun on Cloth Fair – many thanks to Jacqui and the team there.  Happy 2020 to the Smithfield flock of small goldfinch, who love these (squirrel-proof) feeders, as do the clever pigeons who hang about at ground level to peck up the bits the goldfinch let fall.
Our volunteer Sheila McIntosh looks after the bird seed for Bunhill, Postman's Park, Smithfield Rotunda, St. Paul's, Church Entry – she checks them every couple of weeks to make sure no one has run out of bird feed.
If you notice empty birdfeeders – please contact us. We also clean the two bird baths  and look after bird feeders on Bunhill Row side and City Road side of the Fields.