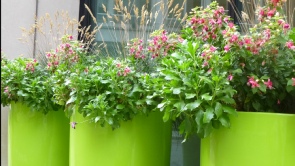 2016 was been another brilliant year for City in Bloom. We were delighted to welcome J. B. Riney and Co. Ltd. as our sponsor. The competition opened on 1st May and over 130 entries were received from residents, City businesses and institutions, schools and community groups.
The Award Ceremony, in the Roman Amphitheatre saw 28 entries winning Gold Awards – meaning they achieved an Outstanding standard of over 86% and 25 entries achieving a Very Good standard with a score of between 76 and 85%.
In addition, the judges awarded five special awards and 45 Beech Street won the Greening Grey Britain award. We also recognised outstanding individual achievement with a Biodiversity Champion Award and a Community Champion Award.