Fann Street community orchard and herb garden
In October 2013 the Metropolitan Public Gardens Association awarded FoCG £230 to buy edible herbs to underplant the fruit trees in the Fann Street community orchard.
The orchard was created in when over 30 volunteer residents from the Golden Lane and Barbican Estates planted 12 fruit trees in the on-street planters on Fann Street.
The herb garden. In April 2014 residents and Friends of City Gardens volunteers turned out again to plant over 150 herbs, including sage, several varieties of thyme, mint, parsley, rosemary, chives, coriander and lavender. The herb planting was part of a community open day – with Fann Street wildlife garden opening to the public together with the Golden Lane allotment 'baggers' and the recently formed Barbican allotment group. Tea and homemade cakes were provided in the community room on the Golden Lane estate. Again we had a good turnout of residents including families with children.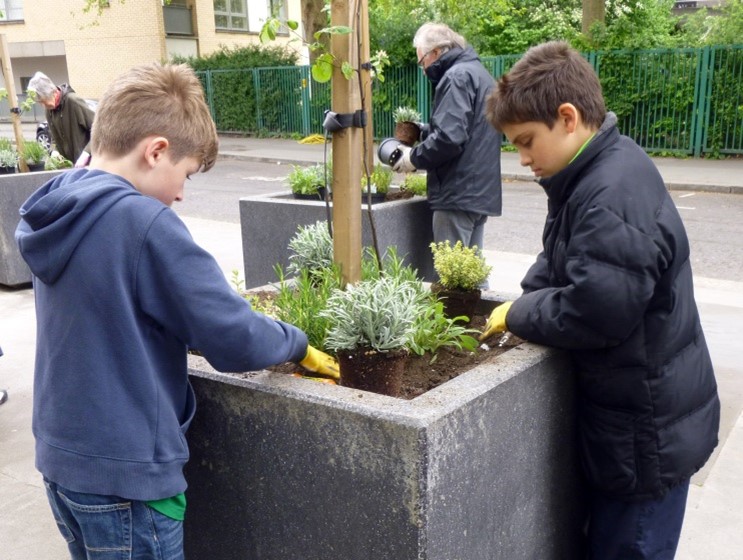 The herbs have flourished over the Summer. The orchard and herbs are watered by volunteers and well used by residents.
FoCG volunteers used the herbs in an identification quiz and to make a selection of herb breads for a tasting session for our stall at the Fortune Park Fun Day in in July 2014.
We also entered the Community Garden for the RHS It's Your Neighbourhood scheme and the City in Bloom competition in 2014.
In early 2014 Friends of City Gardens asked the City to allow us to have a bench in the Community Orchard. Not only did they grant permission they also supplied two beautiful oak chairs that are very well used by older residents resting whilst walking between home and the shops and also many other passers-by of all ages.
Fruit trees
2x Apple Cockle Pippin M27 Bush
1x Apple Gascoynes Scarlet M27 Bush
1x Apple Lady Sudeley M27 Bush
2x Apple Tydemans Early M27 Bush
1x Apple Colonel Vaughan M27 Bush
1x Apple Sussex Mother M27 Bush
1x Quince Meech's Prolific QA Maiden
1x Plum Jubilee Pixy Bush
1x Plum Marjories Seedling Pixy Bush
1x Damson Merryweather Pixy Bush
Herbs
Garden sage
Variegated thyme
Blackcurrant sage
Common thyme
Lemon thyme
Oregano
Chive
Parsley
Coriander
Rosemary
Garden mint
Fennel
Lavender