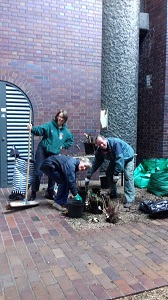 Marion Blair and Jo Rodgers with City gardener and Friend, Nic Martin Guerra launched plant rescue and redistribution scheme in 2019.
Any unwanted plants could be 'rescued' by FoCG volunteers and then redistributed in and around the City to community gardens, schools or indeed anywhere that would save them from becoming green waste.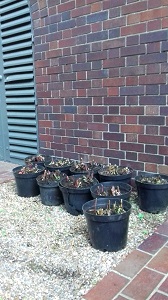 The scheme is in its infancy with transport probably being the main issue to sort out but the first plants have been rescued! Nic, the linchpin of the whole project, rescued three garden trolley loads of left over bedding in time for his talk at Barbican @50 window box workshop, which was attended by over 40 residents.
Two shopping trolleys were then wheeled over to the Golden Baggers allotments with the remainder kept for Fortune Street Park Fun Day. 12 large holly standards, rescued by Nic and, with the help of Paul Baldassari, Barbican Gardens Team Leader, were taken to Middlesex Street Estate Garden, with one kept for Nic's Secret Garden and Rescue Nursery in All Hollows by the Tower – the true inspiration for the scheme. 11 three meter high Taxus plants were given to a community gardening group following contact with RHS's It's Your Neighbourhood scheme.
150 pots of Gaura and Salvia Farinacea saved from the beds around St Paul's. Look out for a lot more plants ready to be rescued and to live again.